Hello from the recently reunited Nick and Morgan, as we undertake yet another New Development. That's right, the Great Swing Back East has begun, as I write to you from Sin City itself, Las Vegas, Nevada.
It's a fairly absurd Vibe Shift™ from our most recent stop, Fresno, California.
As much as I've tried to give the impression otherwise on this blog, the miles and days do add up on a trip like this. It's easy enough to convince myself to take a day off and lay around on the couch watching TV or reading when we're staying in a place for a month, especially when Morgan's around. But out here by myself, changing locations every week or two, I've felt compelled to be on the move constantly, both to see as much as possible in these places I may never get to visit again and to keep myself busy, instead of sitting around in a small Airbnb.
But over the previous weeks, even as I enjoyed the incredible sights of the Central Coast and San Diego, my mood began to dip a bit in idle times. I found myself waking up feeling less rested, and even feeling guilty about being in these amazing places and not wanting to shoot out the door and see stuff.
It occurred to me eventually what was really going on in my head. When you've been traveling for a long time like we have, sometimes you need a vacation from your vacation, so to speak. And while most people might spend their vacation going somewhere or doing something, a vacation for us now is…just being able to live a normal life. Sleep in. Sit around the house a bit. Binge-watch some TV. Do some shopping. Get an eye exam and an oil change.
Fresno, as it turns out, is a pretty good place for this. I say this with the utmost respect, but there's just not a terrible lot going on here. In some ways, it's the least-happening place we've been. When you search for "top things to do in Fresno," and among them are a waterpark and a shopping mall, you get the picture. For all its more than half-million population, it feels relatively sleepy, and unlike essentially everywhere else we've been (save perhaps Mobile,) I may have more time than I know what to do with. With as much respect as possible to any Fresnans who may encounter this blog now or in the future, the key to enjoying this city seems to be lowering your expectations appropriately.
I've gone out in search of Fresno, as it were, multiple times here and come up relatively empty each time. I wandered through downtown for a few hours and didn't find much beyond some empty streets, a historic water town under renovation, and a lot of old fancy theaters that speak to a better time in this weird town.
Luckily, we also have a pretty sweet place to stay here, arguably one of our best Airbnbs. It's a spacious three(!)-bedroom with a big backyard, comfy living room couches, a dedicated workspace, and a tub in the bathroom. All in all, not a bad place to hang around and recharge.
Our home was a few blocks from Fresno's Tower District, a strip of bars, restaurants, music and theater venues, and more. I strolled over after getting myself and Linus settled on the day we arrived, taking the scenic route in a decision I almost immediately regretted.
You see, it was in the low 60s when I left Cambria, and felt even chillier thanks to the almost-constant sea breeze. In Fresno, 140 miles inland, it was pushing 95, and I foolishly failed to change out of my jeans and long sleeve shirt before setting out. Weather whiplash is a real thing, folks. In the space of three weeks, I've gone from the 90s to the 70s to the 50s to the 90s again. To be fair, you can actually do that same thing in a day's driving in California, a state with a truly and underrately bizarre climate.
Perhaps it was the heat, or perhaps it was Fresno's general sleepiness, but I saw barely a soul on the streets.
I don't want to give the impression that there's nothing going on in Fresno. In fact, it's home to one of the legitimately weirdest and coolest things I've seen on our journey, the Forestiere Underground Gardens. This sprawling complex showcases the work of Sicilian immigrant Baldassare Forestiere, who spent four decades in the first half of the 20th century excavating a dizzying series of tunnels a few feet under the surface. They stretch somewhere between 10 and 80 acres, and they're still being restored and explored as formerly caved-in passages are excavated.
This would be impressive enough on its own, until you see how he designed this space to grow citrus, herbs, and other plants all underground, through the use of built-in planters and strategically placed skylights and courtyards. Walking through it, it's almost overwhelming to think about not only trying to design it, but dig and built it yourself – by hand. For me, the tour was equal parts listening to our guide and trying not to get lost. The fact that this guy also lived here was pretty incredible.
On top of his architectural talents, Forestiere was also a gardening genius, too. At one point, a tree in the gardens was grafted to grow six different types of citrus, and other grapevines were trained to grow through small holes in the ground up to the surface.
He even had plans for a day resort where Californians could come to escape the heat underground, complete with a car tunnel and ballroom. Unfortunately, this never came to be before he died, but all of the parts are there.
It's a pretty special place, not least of which because it's buried right next to a busy four-road and across the street from an auto body shop.
It took more than another week before I discovered something else in Fresno that I really clicked with. And turns out, it wasn't in Fresno at all. Just northeast of the city proper is the town of Clovis, which, as it turns out, is actually a pretty nice place! Everything bleak, empty, and industrial about Fresno is replaced by a charming "Old Town" positively packed to the brim with antique stores, used bookstores, coffee shops, and bars.
Even on a random Tuesday afternoon, there were plenty of people out and about, locals and visitors alike. I spent an hour or two browsing the stores, and checking out a town "museum" that would have been hard to distinguish from the junk stores if not for the items being behind glass. That, and the absurd number of old-time class photos.
I bought myself a book and a print, and somehow found the willpower to resist buying the Jar-Jar Binks Mountain Dew standup.
As I shopped, I found myself wishing we'd stayed here instead. I hope this kind of information is useful to someone reading, because, unlike most spots on our journey, I don't foresee us making a return trip here at any point.
Fresno also has baseball! It may be California League Single-A, but it's professional baseball nonetheless, and we got tickets for a Fresno Grizzlies game on a lovely Friday evening. It may not measure up to the Padres and Petco Park
One of the top things to do in Fresno, it turns out, is to go somewhere else. I say that with a bit of sarcasm, but it's also true. My first excursion out of town came before Morgan's return. I packed up my bag and prepared for a big day of exploring a national park many people skip due to its more famous neighbors – Kings Canyon.
To be fair, it's not unreasonable to miss out on Kings Canyon. I don't think it reached even the second-tier of parks I wanted to see on this trip when I made my initial list. To the south, you can gawk at truly mind-bogglingly large trees at Sequoia National Park. To the north, Yosemite isn't far away, and I'm not sure what more I can say about the popularity of our very first national park. But don't ignore this underrated gem.
After about an hour's drive from Fresno, I arrived at the Kings Canyon visitor center and headed onward into the park (for free! Thanks, national park passes.) My first stop was Zumwalt Meadow, one of the park's most picturesque spots near the end of the more than 30-mile Kings Canyon Scenic Byway (a road that, amazingly, when continuing out of the park, passes about 100 yards from our Airbnb.) This is another situation where the drive itself is an attraction, descending more than 2,000 feet as canyon walls soar above you. At its deepest, Kings Canyon is almost a half-mile deeper than the Grand Canyon, and you can drive your car right down to the bottom.
Zumwalt Meadow was fairly uncrowded for a beautiful day. I headed down the loop trail, regularly tripping over myself ask I gawked at the massive canyon walls, rushing Kings River, soaring trees, and lush greenery. It was all just so different, as dramatic of a scenery change as we've had at any point on our trip. I've been reading a lot of John Muir in anticipation of seeing this area, and you sort of understand the urge to leave it all behind and go wandering through the wilderness when you see the places he writes about.
The meadow itself is an easy walk, not more than a half-mile each way. It's so picturesque it's almost unreal, and left me wondering why Kings Canyon doesn't get the kind of attention of other national parks. I talked with some of my fellow hikers, two older Californians who were among the only people I saw on the trail. They said that if this were Yosemite, we'd be sharing the view with a few dozen more people, with the clamoring of picture-takers drowning out the babble of the water through the meadow.
Yes, that is through the meadow. I'm not the kind to go off-trail, but those inclined to do so would find themselves not strolling but wading through the area instead. Despite some confusing and contradictory signs and a somewhat uneven path, I continued down the trail, which made a loop around the meadow, past the river, and along the canyon wall. Despite how some of the pictures might look, it wasn't strenuous hiking and, in retrospect, was one of the best trails on the trip so far (that list is a future blog post when we're not traveling anymore, if anyone will still be reading.)
On a whim, I decided to extend my hike upriver to Road's End, where, as you might expect, the road ends and travel further up the canyon is only possible on foot. It's also the location of Muir Rock, where the man himself would hang out and yell at people about his theory of how canyons were formed (he was right.) It's also supposedly a popular swimming spot, something I immediately doubted after taking off my shoes and sticking my feet in. The air may have been in the mid-80s, but the water certainly was not. Within about 10 seconds, my feet were going numb, the kind of numb where I felt myself quickly losing my balance. That water was COLD. This makes sense, I suppose, as parts of the park remain closed in late May as the snow is still melting enough to allow access.
After lunch and a walk back to the car, I began the drive out of the canyon. On the way, I made a stop at Roaring River Falls, another extremely literally named and beautiful place.
My final Morgan-less adventure of Fresno took me to another of the Central Valley's limited supply of destinations, Bakersfield. Country music aficionados may recognize it from Buck Owens and the "Bakersfield Sound", or alternatively, as the proximate setting of award-winning oil-drama There Will Be Blood. I had had just about enough of driving by this point, and, never one to miss an opportunity to take the train, I grabbed Amtrak tickets instead. Luckily for me, Fresno is located along the service's San Joaquin line that heads all the way to San Francisco.
I was heading to the opposite end of the line, at the bottom of the Central Valley, where it meets Southern California. The two hour ride is not most people's idea of scenic, unless you're particularly into half-cultivated fields and oil pump jacks, which incidentally I am!
Along the way, I got to do a bit more research on what, exactly, is going on in Bakersfield. To my surprise, I learned the city has one of the highest population of Basques in the world outside of their home region, first thanks to the area's mining, followed by the sheep herding many of them already knew well. I had forgotten my breakfast back in the Airbnb and my stomach was rumbling, so I decided a trip to one of Bakersfield's famous Basque restaurants would be my first stop. As it turned out, not eating breakfast was a good choice.
I don't know how much you know about Basque food, but if you're like me, it was essentially nothing. But meals are a big deal for these folks, a multi-course extravaganza of bizarre food combinations. After a hot, dusty, boring walk through Bakersfield (this will become a theme), I arrived in the Old Town Kern neighborhood, the historic home of the city's Basque community. I grabbed a seat at the bar at the Pyrnees Cafe, a place so good their only website is a Facebook page with photos of the menu. And Guy Fieri apparently came here, and the mayor of Flavortown has rarely steered me wrong before.
I ordered some lamb chops and a beer, setting off a cascading series of food courses that seemed destined to continue forever. First, came a bowl of bread (which I did not partake in for obvious reasons), along with a delicious salsa so good I could almost eat it straight. Then, a bowl of cabbage and vegetable soup – also extremely good – alongside an odd little cup of beans.
Afterward came a salad topped with copious amounts of cheese and pickled beets(?), with its own odd companion of cottage cheese, which I also skipped. I still had a meal coming up, after all, and when it arrived, I was glad I saved room. The lamb chops were perfectly grilled and juicy, the fries were crispy, and the air conditioning was strong. If you're ever in Bakersfield (why that would be, I'm not sure), don't miss out on this experience.
My next stop was the Kern County Museum, an interesting facility that's mostly made up of restored and preserved homes and other buildings from historic Bakersfield and other parts of the area. This was pretty cool, albeit a little spooky to wander around this mismatched ghost town without anyone else around. Among the exhibits was the childhood home of country music legend Merle Haggard, a Bakersfield native who grew up in a house that was once a refrigerated rail car.
Speaking of country music, the museum was also home to a cool exhibit on the Bakersfield sound, with items and instruments from Haggard, Buck Owens, and a bunch of other country legends.
There's also a great exhibit on Kern County's oil history, as well as a very cool collection of neon signs once used throughout the area.
By this point, it was mid-afternoon, and very, very hot. There's something about the hot stillness of the Central Valley that is just utterly draining in a way other heat isn't. I tried to request Ubers back to downtown with no luck, so I set off on foot. There's a song about walking the streets of Bakersfield, and I can confirm it's as unpleasant an experience as promised. I was in such a bad mood from all this that I decided to get the earlier train back to Fresno instead, a decision I've since regretted. Bakersfield was alright – just don't try to see it without a car.
Halfway through the two-week stay in Fresno, I was graced by Morgan's return from the equally hot but much more humid gulf coast of Florida. I picked her up at the airport, which, like much of Fresno, is somewhat unfortunate in its airport code – FAT. I was very glad to have her back, and after initially seeming befuddled about who this lady was who wanted to pick him up, Linus was pleased to see her too.
We waited for her return for what turned out to be one of the highlights of our time in Fresno. It was fairly brief, but insanely memorable – Yosemite National Park. This was one of Morgan and my top places to see on this cross-country ramble. But as in many other ways as summer approaches, we ran straight into the buzzsaw of tourist season. Yosemite has recently begun requiring reservations for entry during peak hours (6 am-4pm), a somewhat controversial move. By the time we knew when we'd be in Fresno, naturally all of the reservations were gone for our dates, and I had no luck trying to get the few released every morning a week ahead of time.
I've got very mixed feelings about national park reservations. On the one hand, it's inarguably true that more people are trying to go to national parks than ever before. Even with the pandemic closing some facilities, there were nearly 300 million visits to parks in 2021, and pre-pandemic, visitation was skyrocketing. Do you really want to sit in an hours-long traffic jam to see Old Faithful, struggle to get a shuttle bus at the Grand Canyon, or spend hours circling for parking at Jordan Pond?
On the other, I consider myself reasonably tech- and park-savvy, and I've struggled in the past to get reservations almost universally. I worry we're trending toward a world where national parks are only accessible by a hyper-dedicated group of enthusiasts, while average folks looking to explore are shut out. I read a lot of travel blogs and follow these people on Twitter and Instagram, and I see the long explanations about how to obtain permits, entrance reservations, and more. The national parks belong to everyone, and I've long maintained that the National Park Service is one of the few remaining functioning parts of the government. Let's not blow this, guys.
The upshot of this long digression is that Morgan and I did not have a reservation, and therefore could only enter after 4pm or before 6am. Anyone who knows Morgan knows that if she's up before 6, it's because she hasn't gone to bed yet, and I wasn't fond of an early morning departure either. So we resolved to head over after 4, coincidentally when Morgan gets out of work on the west coast.
We've done some long drives for sightseeing, but this might have been our longest. Still, it wasn't unpleasant for most of the time. The scenery got more and more absurdly beautiful as we went, from the ugly flatness of Fresno to the endless fields of the farm country, then into the foothills and past a handful of tiny tourist towns and an imposing Indian casino. It was easy to tell we were on the right track, as the frequency of "Yosemite"-named things increased continually until finally, a modest sign on the side of the road reading, "Yosemite National Park."
At this point, we were still nearly an hour from Yosemite Valley, the most popular part of the park and our ultimate destination. Morgan and I each drove this portion in opposite directions on our way in and out, and agreed it might be the first road in a very long time where the 35-mile-per-hour speed limit was appropriate. The two-lane road clung to the side of a mountain, passing through scorched hillsides and past some vistas that could only be described as unreal.
That's not to mention the temperature drop, which plummeted nearly 30 degrees from over 100 in Fresno to the low 70s in Yosemite. After about 45 minutes more, we entered a long, dark tunnel, with walls of unsmoothed mountain rock, all much to Morgan's chagrin. I can certainly empathize, considering my feelings about the Coronado Bridge. But a minute or so later, we emerged on a view unlike anything I've seen inside or outside the national park system in its perfectly framed and composed combination of natural beauty. In the very literal way that that the National Park Service tends to operate, this is known as the Tunnel View viewpoint.
We spent a few minutes here, like most people, mostly sitting in awed silence. I am sorry for anyone who never gets to see something like this in person. I've seen pictures, watched documentaries, but none of it can compare to having it all around you, living and breathing. It's easy to understand why this place helped inspire the concept of a national park. Any sane person who has seen enough places to know a good one from a bad one should feel compelled to protect such a unique place.
As the light was already starting to fade, we figured we ought to pry ourselves away from the viewpoint and head onward to our next stop on this micro-tour, Lower Yosemite Falls. Knowing we wouldn't arrive until after 6, we kept our hiking ambitions short and stuck to this mile-long trail past the bottom of a gorgeous raging waterfall. Keep in mind, this is a different gorgeous raging waterfall than the one in the pictures above. They have them to spare up here, apparently.
To be more accurate, Yosemite Falls is a triple waterfall, though only two are easily apparent from the ground. Snowmelt tumbles 1,400 feet from the top of the canyon to a middle falls of nearly 700 feet, followed by a final, 320-foot drop to the canyon floor. It promised the "shower of a lifetime," and following some brief taunting from Morgan, it delivered. It might not look like it, but the powerful spray blowing off the falls felt somewhere between a mister fan and a low-flow showerhead depending on the strength of the wind, and the noise was deafening.
It was around this time Morgan decided she wanted to touch the river, a project I tenatively supported, despite images of having to dive in to rescue her as she was swept away.
After some false starts, we did eventually find a less menacing path down to a beach and got to touch the surprisingly not-frigid water. The light was already fading fast, and we had many miles of winding mountain roads to drive, so we reluctantly began our trip out of the park, with one more stop at the El Capitan Meadow, another jaw-dropping sight. This is the rock formation the guy climbed in the movie Free Solo, as anxiety-inducing an exercise in filmmaking as you'll ever find. I'm personally glad we watched it after our visit.
And just like that, our time in one of the wildest places we've ever been came to a close. Naturally, we'll need a return trip of far longer duration sometime in the future, but if we'd careened off one of those narrow mountain roads on the way back, I'd have died happy that we got to see it at all.
We also celebrated Morgan's return with a little bit of good old-fashioned minor league baseball. The Fresno Grizzlies play in the surprisingly nice Chukchansi Park, a notable highlight of downtown. They were playing the Stockton Ports (a bad name even by minor league standards) on this Friday evening to a crowd of dozens, even hundreds of spectators.
Minor league baseball is great because, whether or not the game is any good, the drinks and food are affordable and you get to enjoy whatever wacky promotions or gimmicks are afoot. That was all true here, including some stunningly good carne asada fries that, for once, had Morgan admitting I'd made the superior ordering choice. We also enjoyed Parker, the Grizzlies' mascot whose dirty, matted yellow fur reminded me of my beloved but very misshapen and dog-attacked childhood Winnie the Pooh.
The game was, to put it one way, mostly undistinguished. This is single-A ball, after all, and most of these guys will never make it as professional players. But they were trying, and we did get treated to not only a walk-off home-run victory for the Grizz, but a post-game fireworks show too! Naturally, we both got hats for our new favorite team.
Our final day in Fresno was spent, appropriately, outside of Fresno. We headed east to check off another bucket-list sight – the giant sequoias, in the appropriately named Sequoia National Park.
Our destination was the famous General Sherman sequoia. It's thought to be somewhere between 2,200 and 2,700 years old. It's almost incomprehensible to think of a living thing this ancient. It was born around the same time as Confucius and Cyrus the Great. When Caesar ruled Rome, Sherman was already a few hundred years old. It was near its second millennium around the time Europeans first arrived in the Americas. I could go on, but I think the point has hopefully been made. This is one old tree.
Still, it's not the oldest tree – that belongs to another piece of California vegetation thought to be more than 5,000 years old. People come to see General Sherman because (with the exception of connected aspen groves) it is the largest living thing on the face of the earth. It reached nearly 275 feet into the air and is more than 100 feet in circumference, with a trunk that takes up more than 52,000 cubic feet. This is one massively big fucking tree. We took some pictures. But it just doesn't convey even a fraction of how gigantic these things are.
Without thinking about it (because holidays other than Thanksgiving, Christmas, and New Year's seem to escape me these days), we came to the park on the Saturday of Memorial Day weekend, and the entire experience definitely informed my feelings on the reservation system at nearby Yosemite. Driving through the park itself, things didn't seem too crowded. It's just one winding two-lane road, but no crazy lines of cars like you sometimes see at Yellowstone and other parks. But we sensed something might be awry when, still more than three-quarters of a mile from Sherman himself, we started seeing cars parked on the side of the road, with folks walking along the narrow edge of this perilous stretch of pavement.
We parked and carefully wove our way down the road on this impromptu hike, which had pretty good views for a walk from a parking spot.
As we perhaps stupidly didn't think of, naturally the parking was completely full any closer, and shuttles and tour buses were in fact dumping dozens more right at the base of the Giant Forest. This was approaching Disneyland-level crowds in some parts, and of the worst kind of national park tourist. The kind who stands in front of the main attraction for a private photo session, blocking everyone else waiting, or who goes wherever they want, leaves trash behind, and vandalizes trees, rocks, and anything else they can get their hands on. I tend to go hiking and such on weekdays, meaning I don't run into these people very much. But it just makes me so fumingly, blindly angry to see people come to these places and treat such one-of-a-kind places like shit.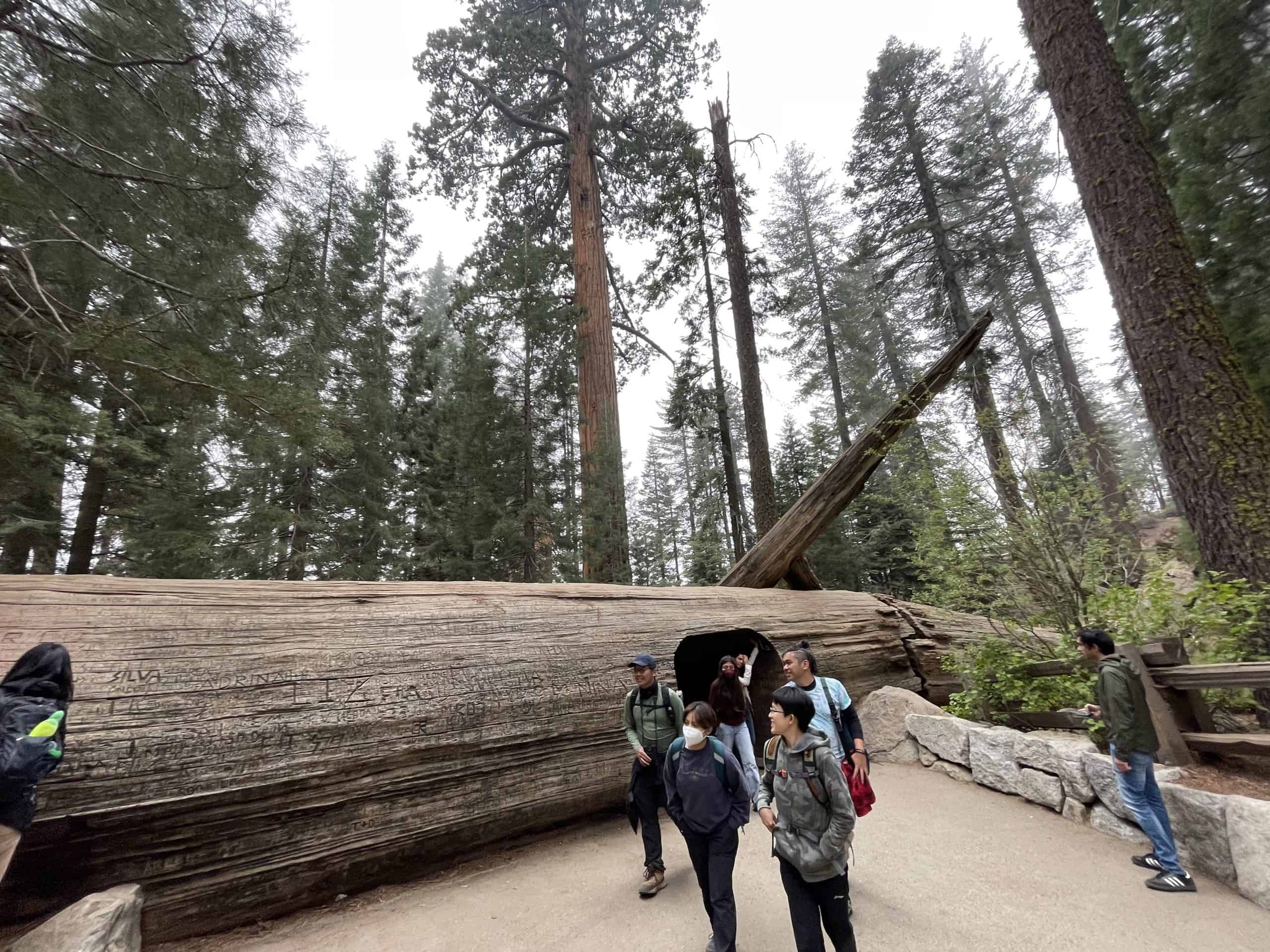 This is true so much more so here, in Sequoia, than even many other places. Sequoias have fairly shallow but widespread roots, and too many shoes trampling the ground around them can damage them over time. Obnoxious tourists looking for an Instagram photo of them hugging a giant tree may end up doing what thousands of years of fires, storms, and human and animal interaction couldn't – killing these extremely majestic creatures.
It's not as if these people shouldn't know what they're doing is wrong. There's extensive fencing surrounding these trees, and you'd have to be pretty stupid to not figure out why it's there. Even more so, it's a massive failure by the National Park Service not to have a single ranger or volunteer around keeping an eye on some of the system's most unique and precious treasures. It was disheartening to be sure, but not enough to ruin the wonder of seeing these absolutely amazing trees, all clustered together on the side of a mountain.
Still, one thing that going to a lot of national parks, historic sites, and preserved wild places will do is change your perception of time and your place in it. These same sequoias survived thousands of years before more than a handful of humans knew they existed. Morgan and I were only lucky enough to see these trees because people before us did their part to protect them over the past century or two. Are we as a society doing enough to make sure that 100 years from now, my grandchildren can take their children to see the same trees? Don't answer that, actually.
We enjoyed the rest of our scenic drive through some very winding roads that eventually took us back into Fresno, an underwhelming place where the tallest building is five stories smaller than the tree we'd seen a few hours before. And so concluded our equal parts-dull, equal-parts breathtaking experience in the Central Valley and Sierras.
The transition here to Vegas has been, to put it one way, dramatic. There's so much to do, and it's an energizing city in a way we haven't felt since New Orleans. We'll keep you posted on our goings-on here, but if you see anything in the news about an Oceans 11-style caper around here – don't call us.
Sinfully,
Nick and Morgan